Fresh Louisiana Blue Crab Meat
Fresh Louisiana Soft Shell Crabs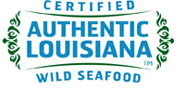 Louisiana leads the nation in production of both hard and soft-shell crabs. If you've eaten crab on the East Coast, chances are it's from Louisiana. Louisiana is the top shipper of live #1 male crabs to the Atlantic coast market.
Serving Size Lump (Jumbo Lump) - chunks of white body meat, the most prized and best used in showy, elegant dishes. Special (All Lump) - the white flaked body meat best used in crab cakes, crab balls and similar recipes. Claw - the meat is latte-colored and some say the most flavorful, nice for stuffed eggplants and stuffed crabs. Crab Fingers (Cocktail Claws) - the pincers themselves, broken to expost the meat and served as appetizers. Backfin - white body meat consisting of lump and flakes. Pieces are smaller than lump, but can be substituted for lump.
Size: 2 (Large) Crabs





Buy 2 for

$12.24

each
Buy 6 for

$11.27

each

Size: 16 oz.