Cajun Cash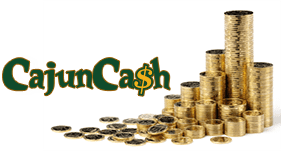 Sign up now for CajunCash® and earn valuable points toward free merchandise - it's fast and free to join! You'll earn one point for every dollar you spend on products from the CajunGrocer.com website. You can redeem your points toward future purchases. Track the number of points you've earned at a glance through your online account. Plus, we'll save your personal preferences to save you time when you purchase.
Existing Customers
If you already have an account, just click the button below to sign-in and see how you can get rewarded!
New Customers
By creating an account with our store, you will be able to move through the checkout process faster, store multiple shipping addresses, view and track your orders in your account and more.
Cajun Cash® Earning Rules:
Purchases: 1 Cajun Cash for each $1 spent
CajunCash® Spending Rules:
100 points = $1
CajunCash® Expiration Rules:
Reward points expire 180 days from the date earned
Fine Print
Cajun Cash® Terms & Conditions: CajunGrocer may cancel and/or change the program at any time, which may have an adverse impact on your ability to accumulate or redeem points, or the value of the points to you. These terms and conditions may be modified at any time to comply with applicable state law in CajunGrocer's sole discretion. Points may not be awarded or redeemed for the purchase of select items from time to time. Those items will be announced or listed at any given time. Points are credited to your account when purchasing products from CajunGrocer, referral purchases are made, product reviews are submitted, and through social sharing. Members cannot get points for purchases made prior to enrollment. Points have no cash value and may not be redeemed for cash. Members must be 18 years of age or older.