Cajun Flip n' Fry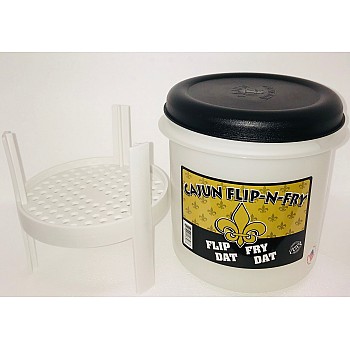 Have A Question For This Product?
There are no questions for this product.
Description:The Cajun Flip n' Fry is the absolute best for breading fish, shrimp, chicken and even vegetables. Works perfectly every time on everything you bread and without all of the mess to clean up.

HOW IT WORKS Step 1: Place fish fry, flour etc.. in bottom of canister, put meat on top of basket. Step 2: Close lid tightly, turn upside down and flip back and forth several times. Evenly coated meat is ready to fry.
Check out our delicious Turducken products for your holiday gathering! Or, for your next spring party may we suggest throwing a crawfish boil or shrimp boil. You may want to add some boudin and andouille, to spice it up! Let CajunGrocer serve your Creole and Cajun food needs.
Default
Nutrition Data
0
Size
1 Flip n Fry
Related Products