Cajun Power Shrimp Stew Base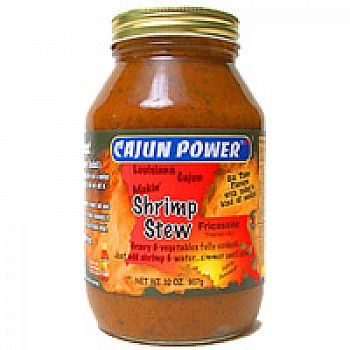 $

6

20

---

2 or more $

5

22

12 or more $

4

83
Have A Question For This Product?
There are no questions for this product.
Description: Cajun Power is a brand that literally brings families together each night. We say normally because these mixes take only minutes to make. Give yourself a break and let us make dinner for you tonight. All of our stews, gumbos, rice dressing mixes and sauce piquants are already seasoned and loaded with fresh vegetables. All you do is add the meat or seafood and you're done. It's just the way Chef Caro would prepare it for Sunday dinner.
Unit Size: 16 oz.
Check out our delicious Turducken products for your holiday gathering! Or, for your next spring party may we suggest throwing a crawfish boil or shrimp boil. You may want to add some boudin and andouille, to spice it up! Let CajunGrocer serve your Creole and Cajun food needs.
Default
Calcium
0
Calories
10
Nutrition Data
1
Size
16 oz. (454g)
Calories from fat
5
Cholesterol
0
Cholesterol per unit
0
Dietary Fiber
0
Dietary fiber per unit
0
Iron
0
Protein
0
Saturated fat
0
Saturated fat per unit
0
Serving per container
30
Serving Size
1 Tbsp (16g)
Sodium
135
Sodium per unit
6
Sugars
0
Total carbs
1
Total carbs per unit
0
Total fat
0.5
Total fat per unit
1
Vitamin A
0
Vitamin C
2
Related Products