CREOLE DELICACIES ,Dessert Sauce, Bananas Foster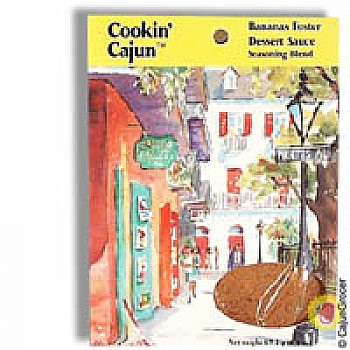 $

4

86

---

2 or more $

4

11

6 or more $

3

80
Have A Question For This Product?
There are no questions for this product.
Bananas Foster Dessert Sauce is one of New Orleans' most famous desserts and makes for a very festive ending for your special evening. So quick and easy. Better get two packs because everyone will want more. Makes 4 servings.
Unit Size: 2.4 oz. (67.2g)

BANANAS FOSTER DESSERT SAUCE Mix contents of Cookin' Cajun Bananas Foster Dessert Seasoning Blend, 1 stick of butter or margarine and 1/4 cup water in a saucepan. Heat for 3 minutes. Add 2 to 4 (depending on size) bananas sliced lengthwise and heat for another 3-5 minutes until bananas are tender. Serve over vanilla ice cream.

OTHER USES Pour over pound cake, angel food cake, fresh fruit, or cheese cake. Serve over hot waffles with a dab of whip cream.
Default
Nutrition Data
0
Size
2.4 oz. (67.2g)
Related Products