Muffuletta Bread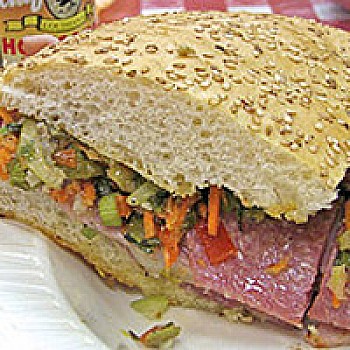 Have A Question For This Product?
Q:
what is the diameter of the bread?
what is the diameter of the bread?
A: The diameter of the bread is 8 inches.
Showing 1 to 1 of 1 (1 Pages)
Muffuletta bread is a New Orleans staple, especially in the French Quarter. Signature sandwiches are often composed of tangy olive salad, meats, cheeses, and other delicious ingredients. Want us to let you in on a little secret? Enjoy a muffuletta to the fullest by letting your sandwich rest before eating. We know that the idea of letting a sandwich "rest" might seem funny, but this allows the bread to absorb all the olive juices to produce a mouthwatering experience with each and every bite. All the bread in our selection is baked daily and made fresh with no preservatives. Short on time or inspiration? We conveniently carry an all-inclusive muffuletta sandwich with everything you need to enjoy a fresh New Orleans classic in the comfort of your own home.
CajunGrocer.com is the premier destination for food lovers and fans of Louisiana cuisine. You can sign up now for CajunCash® and earn valuable points toward free merchandise as well as special prices, exclusive offers, and easy point redemption through your online account. Have questions? Contact us today for further assistance or additional information!
Default
Discount
Yes
Nutrition Data
0
Size
2 Loaves
Related Products