Natchitoches Crawfish Pies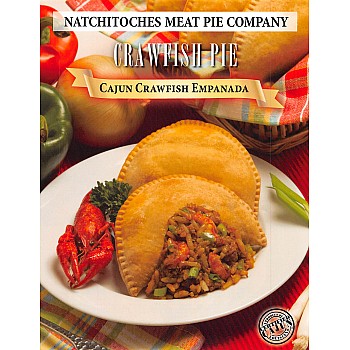 $

9

99

$

9

19

---

12 or more $

8

99
Have A Question For This Product?
There are no questions for this product.
Natchitoches Crawfish Mini Pies are essentially crawfish etouffee stuffed in Natchitoches Meat Pies special pie crust. The crawfish etouffee filling includes crawfish, rice, Cajun seasonings, and cream of mushroom. The minis are bite size and come in one ounce potions.
Natchitoches Meat Pies. ... The state crustacean is always in large demand in Louisiana, so we added our crawfish pie in 1990.
The Crawfish Pie is like crawfish etouffee in a pie crust. crawfish, rice, special seasonings, and cream of mushroom…a little spicy.


COOKING INSTRUCTIONS Deep Frying: Preheat oil to 350-375 F. Fry pies from frozen state for 6-7 minutes or until golden brown. Conventional Oven: Preheat oven to 350 F. Brush pies with melted margarine or butter. Bake on a non-stick cookie sheet for 30 minutes until golden brown and center is heated. Microwave: Not Recommended.
Default
Calcium
4
Discount
Yes
Calories
260
Nutrition Data
1
Size
3 (4 oz. ) pies
Calories from fat
100
Cholesterol
30
Cholesterol per unit
10
Dietary Fiber
2
Dietary fiber per unit
7
Iron
15
Protein
7
Saturated fat
4
Saturated fat per unit
19
Serving per container
3
Serving Size
1 pie (113g)
Sodium
220
Sodium per unit
9
Sugars
2
Total carbs
32
Total carbs per unit
11
Total fat
11
Total fat per unit
17
Vitamin A
4
Vitamin C
6
Related Products