Cajun Original Brown Kwik Cajun Browning Sauce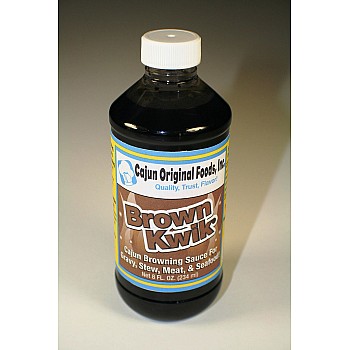 $

6

98

---

2 or more $

6

79

12 or more $

6

26
Have A Question For This Product?
Q:
Is this product GLUTEN FREE?
Is this product GLUTEN FREE?
A: Clysse Favret, We have Savoie's brown gravy and roux that are both Gluten Free.
Showing 1 to 1 of 1 (1 Pages)
A delicate browning sauce with just a hint of cajun seasonings and mild flavorings. Used cor flavoring & browning Gravy, Meat, Stews and Gumbo! Shake well before using.
Real Cajun Flavoring & Browning Sauce
Certified Louisiana Cajun
Prepared the Cajun way
For microwave cooking, broiling, baking, roasting and grilling
Ideal for chicken, pork, beef, seafood and vegetables
Add to gravy, stews, gumbo, casseroles and roux
Browning & Seasoning Sauce
Browning & Seasoning Sauce is a concentrated blend of mixed vegetable stock, spices and herbs that enhances your favorite meals with savory rich flavor. This browning and seasoning sauce will add golden brown color and downhome flavor to hamburgers, pork chops, steaks, chicken, soups, stews, sauces, gravy and more. Its small size makes it easy to store in any kitchen cabinet, and its unique recipe makes it a must at every cooking occasion. Bring great taste and rich brown color to every meal
Unit Size: 8 oz.
Cajun Original tastes even better than Kitchen Bouquet Browning Sauce

Default
Discount
Yes
Flavor
Original
Ingredients
Water, Caramel Color, Vinegar, Citric Acid, Garlic Powder, Pepper, Onion Powder, Spices.
Nutrition Data
1
Size
8 oz.
Related Products