Cajun Power Sloppy Boudreaux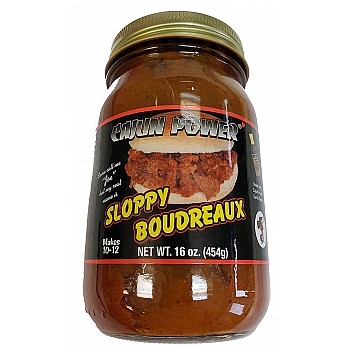 $

6

20

---

2 or more $

5

22

12 or more $

4

83
Have A Question For This Product?
There are no questions for this product.
Instructions for Sloppy Boudreaux 1. Brown 1 to 1 1/2 lbs. of ground meat and drain fat.  2. Add 1 jar of Cajun Power Sloppy Boudreaux.  3. Heat and Serve.   Other Suggestions: Use left-over chopped steak, roast, chicken etc.  For the Ultimate Sloppy Boudreaux, use chopped Bar-B-Q pork.
Unit Size: 16 oz..
Default
Calcium
0
Calories
60
Nutrition Data
1
Size
16 oz
Calories from fat
25
Cholesterol
0
Cholesterol per unit
0
Dietary Fiber
1
Dietary fiber per unit
4
Iron
0
Protein
1
Saturated fat
0
Saturated fat per unit
0
Serving per container
10
Serving Size
3 Tbsp
Sodium
470
Sodium per unit
20
Sugars
4
Total carbs
7
Total carbs per unit
2
Total fat
3
Total fat per unit
5
Vitamin A
2
Vitamin C
4
Related Products