Chef John Folse Crawfish Bisque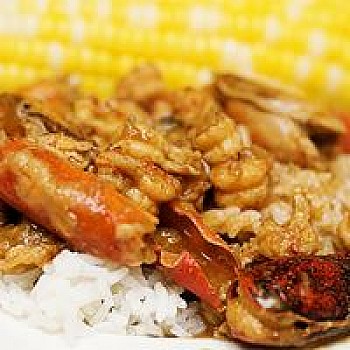 $

32

02

---

2 or more $

26

30

6 or more $

24

85
Have A Question For This Product?
There are no questions for this product.
Description: Many trace the origin of this dish to Nantua, France, where crawfish or lobster meat was purred into quenelles, then cooked in a rich, shellfish based cream or Nantua sauce. Here in Louisiana, crawfish bisque is a Lenten tradition often found on Good Friday & Easter Sunday tables. Cajun families gather the week before Easter to boil the crawfish, grind the tail meat with seasonings then stuff the mixture into the shells. These stuffed "heads" are then simmered in a rich, roux- based crawfish sauce.
Contains 12 stuffed crawfish heads
Unit Size: 1.37 lbs. (22 oz.)
Check out our delicious Turducken products for your holiday gathering! Or, for your next spring party may we suggest throwing a crawfish boil or shrimp boil. You may want to add some boudin and andouille, to spice it up! Let CajunGrocer serve your Creole and Cajun food needs.
Default
Calcium
8%
Discount
Yes
Ingredients
Water, Crawfish, Onions, Celery, Dark Roux With Vegetables [Wheat Flour, Soybean Oil, Onions, Bell Peppers, Celery, Partially Hydrogenated Palm Oil, Preservative (Water, Propylene Glycol, Sodium Benzoate, Methyl & Propyl Paraben, Citric Acid)], Butter Flavored Roux [Wheat Flour, Buttery Topping Oil (Partially Hydrogenated Soybean Oil, Hydrogenated Soybean Oil, Salt, Lecithin, Artificial Flavor, TBHQ & Citric Acid To Protect Flavor, Beta Carotene For Color, Partially Hydrogenated Palm Oil, Preservative (Water, Propylene Glycol, Sodium Benzoate, Methyl & Propyl Paraben, Citric Acid)], Buttery Oil [Partially Hydrogenated Soybean Oil, Hydrogenated Soybean Oil, Salt, Lecithin, Artificial Flavor, TBHQ & Citric Acid To Protect Flavor, Beta Carotene For Color], Modified Corn Starch, Salt, Crawfish Base [Baked Crawfish, Salt, Flavoring, Potato Flour, Autolyzed Yeast, Tomato Paste, Unsalted Butter (Cream, Flavorings), Corn Oil And Whey], Tomato Sauce [Tomato Puree, Salt, Red Pepper, Dehydrated Onions, Dehydrated Garlic, Natural Flavor, Citric Acid], Tomato Paste, Green Onions, Parsley, Hot Sauce [Peppers, Vinegar, Salt], Spices.
Calories
280
Nutrition Data
1
Size
1.37 lbs. (22 oz.)
Calories from fat
150
Cholesterol
95mg
Dietary Fiber
2g
Iron
10%
Protein
14g
Saturated fat
2.5g
Serving per container
3
Serving Size
1 cup (227g/8oz)
Sodium
1360mg
Sugars
3g
Total carbs
20g
Total fat
16g
Vitamin A
6%
Vitamin C
25%
Related Products