Cajun.com Seafood Boil 4 lb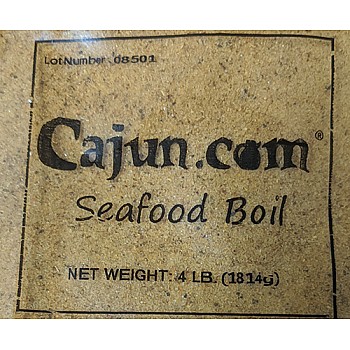 $

9

19

---

6 or more $

7

33

12 or more $

6

66
Have A Question For This Product?
Q: sprinkle seafood boil over crawfish
Can I sprinkle some of seafood boil over crawfish after I take them out of water?
A: Many people do sprinkle seafood boil over boiled crawfish. This seafood boil has a hint of sweetness as well and tastes very good.
Showing 1 to 1 of 1 (1 Pages)
Cajun.com Seafood Boil 4 lb
We love boiling crawfish, shrimp, and crabs. But feeling the need to find a great seafood boil seasoning, we decided to create our own.
Some of the seasoning that we have tried in the past are a little too salty, some are very salty. Some a little too tame, and others a bit too hot. After years of research and plenty of taste testing, these Louisiana boys at Cajun.com have come up with the ultimate seasoning for seafood.
Not too spicy, not too salty, a little bit of sweet, and a nice smooth flavor with a slight kick.
Get yourself a taste of the best seafood boil seasoning, and you'll never want to use another.
Great for:
Crawfish Boil
Shrimp Boil
Crab Boil
Peanut Boil
Default
Size
64 oz. (4 lbs.)
Related Products