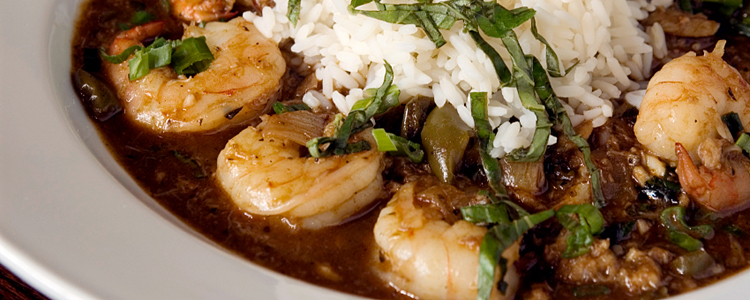 Gumbos & Soups
Shrimp Gumbo, Crab Bisque, Seafood Gumbo, ...
The word gumbo comes from an African word for okra, kigombo, which shows how important an ingredient okra was in early gumbo recipes. There is still debate today for what exactly makes up traditional gumbo. Some chefs believe that anything without okra is not a gumbo, while perhaps some of the most popular gumbo recipes today do not call for it.
Gumbo originated in Southern Louisiana, where okra was easy to grow. Thus, it became a typical thickening agent for gumbo recipes. However, that has been replaced with gumbo file and roux. Roux is basically a mixture of flour and butter (or lard), while filé is a powdered form of dried sassafras leaves . Both of these ingredients are used in a traditional Cajun gumbo, along with Chicken and Sausage.
However, all gumbos should contain the trinity: onion, celery and bell pepper. Throw in your favorite ingredients, like parsely, hot peppers, tomatoes, sausage, chicken or any kind of meat, and you've got one delicious gumbo. Or try one that is guaranteed to be delicious, premade by the most famous names in Cajun cooking today, Chef John Folse, Tony Chachere's, Savoie's, Richard's or even our own signature line of gumbos. You won't be disappointed, cher.
Not in a rush, select GROUND shipping and SAVE BIG! It's our specialty.