Cajun Country Falcon Popcorn Rice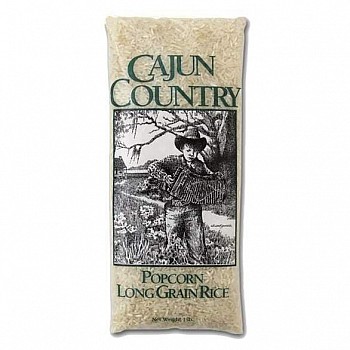 $

3

00

---

2 or more $

2

78

12 or more $

2

56
Have A Question For This Product?
There are no questions for this product.
Cajun Country Popcorn Rice

Estherwood Rice Mill was opened in the late 1800's in Estherwood, Louisiana as an export mill. There are two aromatic varieties of rice that are packaged at the Mill: Popcorn Rice, which when cooked, has the aroma of freshly popped popcorn. Jasmine Rice, which has a fragrant corn or nut-like aroma when cooked.
Unit Size: 1 lb. bag

Hot Rice Ingredients: 3 Tablespoons melted butter 2 Tablespoons chopped bell pepper 1/2 Medium sized onion (finely chopped) 2 Tablespoons pimentos (finely chopped) 1 Jalapeno pepper (finely chopped) 1 Jar (4-6 oz.) sliced mushrooms 1/4 Cup celery (finely chopped) 2 Tablespoons Lemon & Pepper seasoning Steps: Sauté for approximately 5-8 minutes. Add above ingredients to 2 cups of cooked Toro Long Grain Rice (white or brown). Steam together for approximately 10 minutes. Serve hot. Please Note: You may add to or reduce amounts on ingredients to your taste preference. You may also want to add more butter depending on the amount of vegetables you add.

Chicken Jambalaya Ingredients: 1 Fryer (de-boned) or skinless chicken breasts 1 Large onion (chopped) 1 Large bell pepper (chopped) 2 Celery sticks (chopped) 8 Cups chicken broth or low sodium broth 2 Tablespoons Kitchen Bouquet liquid seasoning 3 Cups uncooked rice Steps: Season chicken and brown well. Sauté onions, bell pepper, and celery in pan. Combine chicken, sautéed vegetables, broth, and Kitchen Bouquet together in one pan. Pour into 10-cup rice cooker along with the 4 cups of rice. You can add some chopped onion tops and parsley if you wish. Cook for 15 to 20 minutes and then let steam for 5 minutes or until rice is cooked.
Default
Calcium
0
Discount
Yes
Calories
130
Nutrition Data
1
Size
1 lb. bag
Calories from fat
0
Cholesterol
0
Cholesterol per unit
0
Dietary Fiber
2
Dietary fiber per unit
8
Iron
0
Protein
3
Saturated fat
0
Saturated fat per unit
0
Serving per container
11
Serving Size
1/4 cup (39g) uncooked
Sodium
0
Sodium per unit
0
Sugars
0
Total carbs
31
Total carbs per unit
10
Total fat
0
Total fat per unit
0
Vitamin A
0
Vitamin C
0
Related Products