Turducken with Chicken Sausage 10 lbs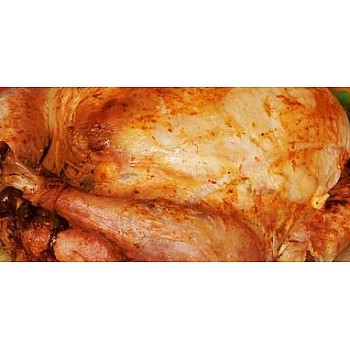 Have A Question For This Product?
There are no questions for this product.
Voted Best Overall and Best Value by Wall St. Journal, our Turducken is a semi-boneless turkey stuffed with a deboned chicken and deboned duck breast and then we add delicious Chicken Sausage. The turducken is frozen in a vacuum sealed bag. To defrost, thaw in refrigerator for 48 hours or for rapid thaw place in clean trash can liner and submerge in cool water for 6-9 hours.
Unit Size: 10 lbs. turducken
Cooking Instructions: Remove from bag. Bake at 325F breast side up on a rack in a roasting pan, covered for 3 hours 30 minutes, then uncovered for 30 minutes, or until internal temperature reaches 165F.
Cajun Turducken Carving Directions: Slice down center of the breast, then slice across in 1 to 2-inch pieces. Serve hot.
Default
Cross Tier Id
Turducken
Discount
Yes
Stuffing
Chicken Sausage
Related Products