Turducken with Chicken Sausage 15 lbs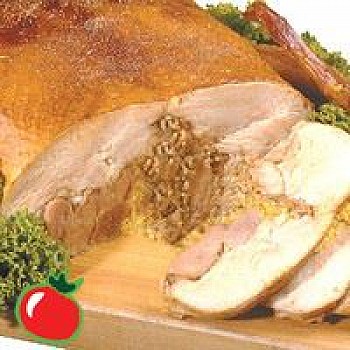 Have A Question For This Product?
There are no questions for this product.
Voted Best Overall and Best Value by Wall St. Journal, our Turducken is a semi-boneless turkey stuffed with a deboned chicken and deboned duck breast and then we add delicious Chicken Sausage. The turducken is frozen in a vacuum sealed bag. To defrost, thaw in refrigerator for 48 hours or for rapid thaw place in clean can liner and submerge in cool water for 6-9 hours.
Thawing Instructions: Turducken should thaw thoroughly before cooking. For best results, remove from box and thaw in refrigerator for 48-72 hours.
Cooking Instructions: Preheat oven to 325°F. Remove Turducken from packaging. Bake breast side up on a rack in a roasting pan, covered for 4 hours, then uncovered for 1 hour; or to an internal temperature of 165°F. Turducken may be basted during the last hour of cooking if desired.
Slicing Instructions: For best results, allow an extra 20-30 minutes "resting time" after removing the Turducken from the oven. This allows the juices to be reabsorbed into the meat. Remove string or netting. If netted, pull netting away from the skin, and cut and remove. First, slice off the wings and legs. Cut the remainder into slices approximately ½" to ¾: thick, slicing from wing to wing, then slice once down the middle.
Check out our delicious Turducken side dishes to serve with your feast.
Default
Calcium
0%
Cross Tier Id
Turducken
Discount
Yes
Ingredients
Turkey [contains up to 8% of a solution (turkey broth, salt, sodium phosphates, sugar, flavorings)] chicken, duck, water, jalapeno peppers, green onion, salt, sugar, sodium nitrite, garlic, red pepper, white pepper, sodium acetate, sodium erythorbate, natural flavors. Seasoning: (salt, red pepper, garlic, black pepper, chili powder, [spices, salt garlic powder, silicon dioxide] oleo paprika, silicon dioxide - to prevent caking).
Calories
190
Nutrition Data
1
Size
15 lbs. Turducken
Stuffing
Chicken Sausage
Calories from fat
70
Cholesterol
90mg
Cholesterol per unit
29%
Dietary Fiber
8g
Dietary fiber per unit
31%
Iron
10%
Protein
28g
Saturated fat
2.5g
Saturated fat per unit
11%
Serving per container
25-30
Serving Size
5.5 oz.
Sodium
340mg
Sodium per unit
14%
Sugars
0
Total carbs
1g
Total carbs per unit
0
Total fat
8g
Total fat per unit
12%
Vitamin A
2%
Vitamin C
6%
Related Products