Creole Pork Turducken Roll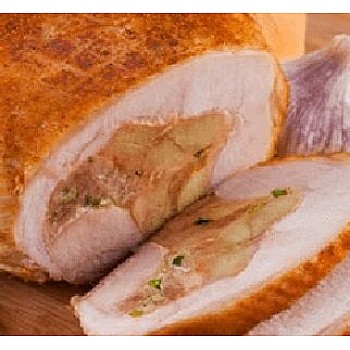 Have A Question For This Product?
Q:
How would you cook this in an air fryer?
How would you cook this in an air fryer?
A: This product may be a bit too large to fit into an Air Fryer but if you have one that will accommodate cook until internal temperature reaches 180 degrees.
Showing 1 to 1 of 1 (1 Pages)
The famous Cajun Grocer Turducken Roll is a boneless turkey breast layered with duck, chicken and stuffed with Cajun pork sausage. This delicious Turducken Breast Roll is frozen in a vacuum sealed bag. To defrost, thaw in refrigerator for 24 hours or for rapid thaw place in clean trash can liner and submerge in cool water for 6-9 hours.
Contains: Pork
Thawing instructions: For best results, thaw 24 - 48 hours in a refrigerator.
COOKING INSTRUCTIONS: To keep product moist, we suggest browning the Turducken ROLL prior to cooking. Preheat oven to 350F. Remove from bag. Add 3/4-1 cup water to pan, place roll in pan skin side down & cover with foil. Bake for 1 hour & 45 min then remove foil & bake uncovered for additional 15 min. Baste as needed. Internal temperature reaches 165F. Optional: For a juicier bird cook in a browning bag.
Slicing Instructions: Allow Tur-duc-ken Roll to cool for 20 minutes to seal in the juices. Remove netting and slice.
Default
Cross Tier Id
Turducken
Discount
Yes
Size
4 lbs
Stuffing
Creole Pork Sausage
Related Products