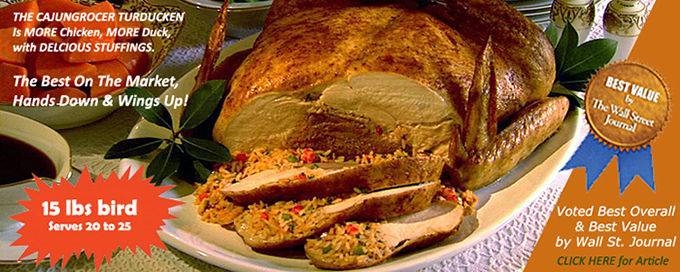 #1 Turducken nationwide for over 20 years .. CYBER SALE while supplies last!
Voted Best Turducken by Wall St. Journal 5,000+
«««««

Reviews (click here)

First thing's first. We don't claim to be the cheapest nor are we the most expensive. But after eating and rubbing that full belly, you'll say "we're just right"! We're proud of our FIVE STAR Customer Review status (click here), only established by our "happy, happy" customers. So sign up as a customer and take advantage of our CAJUN CASH program. Earn REWARD Points for every purchase, apply your points against future orders. We really do offer the lowest shipping rates for perishable foods, guaranteed! Check us out on GOOD MORNING AMERICA. (see Video). See our NEW Turducken TV ad airing on FoodNetwork, the likes of Guy's Diner's Drive-in's &amp Dives; Bobby Flay and Unwrapped 4, 10 & 15 lbs. birds sold here!

Select GROUND and Save!

Click here to read more about Turducken

Close
Close
Close
How To Make a Turducken!
This Turducken recipe makes anyone into a gourmet chef.
If you're looking for a truly delectable dish to serve at your next party or family gathering then consider preparing a turducken for your friends and family. A turducken is simply a turkey that is stuffed with a duck that is stuffed with a chicken, and layers of flavorful dressings and stuffings. In the last few years, the turducken has become a popular main course for both Thanksgiving and Christmas holiday meals. Regardless of the occasion you're celebrating, this twist on a traditional roasted turkey is sure to be a crowd pleaser. Follow the recipe below to prepare a turducken of your own at home.
Cajun Style Turducken What you'll need:
20 - 25 lb. whole turkey, deboned with wings and legs still intact.
5 - 6 lb. whole duckling, deboned
3 - 4 lb. whole chicken, deboned Poultry seasoning blend
Cornbread Stuffing (recipe listed below)
Cajun Rice Dressing (recipe listed below)
Shrimp Stuffing (recipe listed below)
Kitchen string Cotton thread and a large needle
Have the birds deboned by your butcher to save yourself quite a bit of time, but if you're a particularly adventurous cook you can do it yourself. Professional Cutlery Direct provides step by step instructions for deboning poultry. Just be sure to keep the wings and legs on the turkey, that way the finished turducken will still look like a turkey.
It's best to prepare each stuffing ahead of time so that they have time to cool before you are ready to assemble your turducken. A basic stuffing recipe is listed below, and it can easily be adapted for any flavor that you choose.
Cornbread Stuffing
2 Tbsp. cooking oil
4 cups cornbread (crumbled)
1/2 lb. chopped chicken livers
1/2 lb. chopped chicken gizzards
1 cup chopped celery
1 cup chopped onion
1 cup chopped bell pepper
Poultry seasoning, salt and black pepper (add according to taste)
Butter or olive oil for sauting vegetables
Chicken broth
Brown chopped chicken livers and gizzards over medium heat in cooking oil. Add celery, onion, and bell pepper cook until soft. Season with salt, pepper, and poultry seasoning. Add crumbled cornbread to vegetables and meat. Pour chicken broth into mixture until it reaches the desired consistency. Adjust seasoning and cool before stuffing bird.
Cajun Rice Dressing
2 Tbsp. cooking oil
lb. ground beef
4 cups cooked white rice
1 cup chopped bell pepper
1 cup chopped onion
1 cup chopped celery
1 clove minced garlic
1 can cream of mushroom soup
2 cups beef broth
Salt and black pepper (to suit taste)
Brown ground beef over medium heat in cooking oil. Add celery, onion, bell pepper and garlic cook until soft. Season with salt, pepper, and Cajun seasoning. Add the cream of mushroom soup to the pot and heat through. Mix cooked rice with beef and vegetables. Pour beef broth into mixture until it reaches the desired consistency. Adjust seasoning and cool before stuffing bird.
Shrimp Stuffing
2 Tbsp. cooking oil
4 cups cooked rice
2 lb. chopped shrimp (raw)
1 cup chopped onion
1/2 cup chopped green bell pepper
1 cup chopped celery
1 clove minced garlic
1 can diced tomatoes
Salt and black pepper (to suit taste)
Dash of red (cayenne) pepper
Saute celery, onion, and bell pepper until soft. Pour in diced tomatoes. Add chopped shrimp, cook until slightly pink. Season with salt, pepper, and cayenne. Combine with cooked rice. Add a little water if stuffing seems dry. Adjust seasoning and cool before stuffing bird.
Assembling the Turducken
Begin by placing the turkey skin side down and seasoning it well with salt, pepper and poultry seasoning. Then spread the cornbread stuffing over the turkey. Next, place the duck on top of the cornbread stuffing and spread the Cajun rice dressing over it. You will then place the chicken on top of the Cajun rice dressing and add the shrimp stuffing. Each stuffing layer should be approximately 1/2 inch thick. Any leftover stuffing can be placed in casserole dishes and baked at 350 degrees Fahrenheit for approximately 30 minutes.
Once you've stuffed each bird, fold the sides of the turkey together to close the bird. Enlist someone to help hold the turkey closed as you begin to sew up the opening. The stitches should be spaced about 1 inch apart. You finish sewing the Turducken tie the legs together, just above the tip bones. Be sure to place the Turducken breast side up while cooking.
Once the turducken is assembled, place the turducken in a large roasting pan and cook in a 325 degrees Fahrenheit preheated oven. Alternatively, you can place the turducken on aluminum foil or in an aluminum pan, and then cook on a 350 degrees Fahrenheit grill or smoker.
Regardless of which method you choose to use you should cook the bird until a meat thermometer inserted into the thickest area on the bundle reaches an internal temperature reaches 180 degrees Fahrenheit (165 degrees Fahrenheit is the minimum temperature for cooking poultry, but 180 degrees Fahrenheit will ensure that the turducken is fully cooked all the way through). The USDA recommends that a stuffed turkey of this size will generally take 4 1/2 to 5 1/2 hours to cook, but your best bet is to rely on the meat thermometer.
Close
CajunGrocer.com
Voted Best Overall and Best Value
CATALOG CRITIC
"Poultry in Motion"
Turduckens -- Cajun Combos --
Fly In by Mail for Our Test;
Where's Bird's Inner Chicken?
By ALEXANDRA WOLFE
Staff Reporter of THE WALL STREET JOURNAL
Page W1
Growing up in Covington, La., Mickey Harris could just head to his local grocery store to pick up a "turducken": a turkey, stuffed with a duck, stuffed with a chicken. But when the 40-year-old real-estate consultant moved to Southern California six years ago, the Cajun specialty dropped off his menu.
Now, Mr. Harris is getting tradition delivered on ice. He's ordering his first turducken online, and plans to serve the poultry trifecta to Thanksgiving guests at his Del Mar home. "It's all about maintaining your roots," he says. "When you grow up in the swamp with mosquitoes, you're going to have a sense of humor, or how else are you going to come up with a turducken?"
GOBBLE, GOBBLE
Tastings: Dress Whites for Thanksgiving Dinner
For Holiday Diners Fickle About Fowl, There's Turducken 11/27/96
See how the birds stacked up against each other.
These birds of a feather, cooked together, have migrated from regional oddity to national foodie fad. From the outside, a turducken looks like a turkey, but when you cut through it -- the turkey is partly deboned, and the duck and chicken are boneless -- you get concentric rings of poultry and stuffing. The stuffing is typically cornbread, rice, or andouille-and-crawfish. For poultry-lovers (or the indecisive) it's one-stop shopping.
Three birds in one: Slicing the turducken reveals the nested fowl.
There are now at least a dozen online turducken sellers who ship the dish anywhere in the U.S. Kevin Trahan, owner of Cajun Stuff, a food purveyor based in Houston, says that when he launched his Web site in 1997, he was the only one selling turducken online. His Web turducken sales have increased 20% annually since then, and he expects to ship 2,500 turduckens this holiday season. Hickory Farms, the mail-order giant, says it has recently shipped turduckens to Hawaii and Alaska. The Institute of Culinary Education, a New York cooking school, introduced a turducken-making class to its curriculum last year.
CajunGrocer.com
Voted Best Overall and Best Value
Since most people have neither the time nor the butchering skills to prepare a fresh turducken (roughly a 12-hour project from de-feathering to carving), we decided to wing it by ordering six frozen turduckens from different online stores. The turduckens were delivered packed on ice -- except one, and we're way too chicken to try unrefrigerated poultry.
We assembled a group of tasters and had our turduckens cooked at the Institute of Culinary Education, which gave us the use of five ovens and the help of its staff for our battle of the birds. As we waited roughly five hours for our flock to roast, we wondered: Would turducken-by-mail deliver the medley of flavors prized in the Bayou? Would the skin be crisp and the meat be moist -- or the other way around? Or would the whole thing fall apart like a cheap Russian nesting doll? And with the turduckens costing from $60 to $115, is this triple entente of flavor really worth it?
Gourmet Foods
Geological Cross-section
The first turducken we tasted was from Hickory Farms. Unlike the others, it contained rice stuffing, which was falling out of the turducken before it went in the oven. Things got sloppier from there. Though its skin was crispy and golden brown, rice spewed everywhere the moment we cut into the breast. We also found this turducken to be a little skimpy on its crucial innermost component. One taster poked around his dish, wondering, "Where's the chicken?"
In almost every case, we found the duck portion of our turduckens to be far too tough and gamey to be enjoyed, but the turducken from French Market Foods was an exception: "The duck is actually edible!" one taster exclaimed. The stuffing was thick and rich with a strong taste of pork sausage, but yet again, the chicken was elusive: We didn't see it until we were almost done slicing through the bird.
Cajun Stuff
The turducken from Gourmet Foods arrived with a string that wraps around the bird like a net, and stays on until just before it's carved. Each layer of poultry and stuffing was clearly visible when we sliced into it -- it looked like a geological cross-section. The stuffing was good and spicy, but the duck was one of the driest we tasted. The underlying chicken, however, was surprisingly tender and moist. "How does the chicken stay juicy when you can barely bite into the duck?" one taster asked.
Turduckens date back at least to the mid-1960s, when Louisiana chef Paul Prudhomme says he invented them -- but their origin is still debated. In an attempt to make a turkey easier to carve, he says he removed its bones, but the bird didn't hold up. After 10 years of trying, he says, "I started putting more than one thing together -- chicken and the duck to hold the turkey up -- with three different dressings."
French Market Foods
But Brian Buckley, an instructor at the Institute, says the turducken is likely based on the galantine, an 18th-century French combination of a deboned bird stuffed with forcemeat, a smooth mixture of finely ground veal, poultry, fish, vegetables or fruit mixed with bread crumbs and seasonings. Since Cajuns came to Louisiana in the late 18th century from French Canada, it's likely that they brought this recipe with them.
Cajun Stuff's turducken had by far the most advanced packaging. It was the only one to arrive in vacuum-sealed wrapping, which the company says keeps the bird fresh and juicy. When we carved it, the layers were clearly defined. Chef Andrew Gold, an instructor at the Institute, held two fingers together, "I could slice it this thin!" he said. But while pleasing to the eye, this bird was disappointing to the palate. "All the flavors blend together," said one taster. "Everything is too spicy," said another.
Our tasters found the turducken from CajunGrocer.com to be the most moist and tender. "The chicken is succulent," raved one. The cornbread stuffing was heartier and sweeter than the others. "It's like a corn muffin with pork," a taster said of the stuffing. What could be better than that? Of all our birds, this one was Best Overall. It was also one of the least expensive turduckens we ordered, so it's also our Best Value.
Hickory Farms
In the end, we thought that turducken -- despite being an elaborate feat of poultry engineering -- basically tastes like, well, chicken. And turkey. And duck. Most agreed with one taster, Jacob Snyder, a Los Angeles writer/producer, who said: "I'd much rather have a perfectly cooked turkey or duck or chicken." For others, though, the experience merely whetted their appetite for a greater culinary challenge. That would be fowl de cochon: 30 to 100 pounds of quail stuffed into a chicken, stuffed into a duck, stuffed into a turkey, stuffed into a pig.
CajunGrocer.com
Turducken with Cornbread Dressing, $59.95
www.cajungrocer.com
888-272-9347
QUALITY: Best Overall and Best Value. This bird, one of the largest we tested, was consistently tender. We loved the stuffing and Cajun spices.
SHIPPING COST/TIME: $28.13 for two-day shipping; $17 to $20 for Ground shipping. We paid $10 extra to overnight it over a weekend and got it in two.
RETURN POLICY: If the package or bird is defective, they give a full refund.
PHONE/WEB EXPERIENCE: The Turducken was easy to locate from the home page.
COMMENT: The site also offers a "qua-duc-ant" (a quail stuffed into a duck, stuffed into a pheasant).
Gourmet Foods
Gourmet Cajun Turducken, Cornbread Stuffed, $59.99
QUALITY: This was the only one of our birds that came wrapped in string to hold it together, allowing the bird to retain its heat and moisture post-cooking.
SHIPPING COST/TIME: $64.94. Delivered it in three business days -- but to our billing address. They offered a refund.
RETURN POLICY: Refund if damages or shipping problems; they pay shipping fees.
PHONE/WEB EXPERIENCE: This Web site was the easiest to navigate with a Turducken banner right on the home page.
COMMENT: Apologetic about the shipping problem and called us back quickly. When we ordered, our bird cost $69.99.
Cajun Stuff
Turducken, $114.95
QUALITY: This one's layers held together the best, but the flavors blended too much and tasted saltier than the others.
SHIPPING COST/TIME: Free shipping for two-day air. Overnight is $20 more. Ours arrived on time.
RETURN POLICY: Can be refunded if damaged, minus shipping fee.
PHONE/WEB EXPERIENCE: The turducken is front-and-center on the Web site with cooking information.
COMMENT: Site was easy to navigate and included customer reviews of available products.
French Market Foods
Turducken, Louisiana stuffing, $59.95
QUALITY: The duck was more moist than the other turduckens, but chicken was hard to find. Cornbread stuffing was a bit heavy with a strong taste of pork.
SHIPPING COST/TIME: $35 for three-day shipping. It arrived on time.
RETURN POLICY: French Market will refund the price of the bird and the shipping if defective.
PHONE/WEB EXPERIENCE: You have to register before checking out, which adds an unnecessary step.
COMMENT: Louisiana-based site asks if you want the bird shipped within or out of state (higher price out of state).
Hickory Farms
Turducken, $109.95
QUALITY: Rice-based stuffing started to fall out immediately after we took it out of the oven. The turkey and duck were dry.
SHIPPING COST/TIME: $33.85. Two-to-three-day shipping arrived early, on next business day.
RETURN POLICY: If defective, will ship another. Will also refund, minus shipping.
PHONE/WEB EXPERIENCE: Turducken was hidden on Web site that promotes mostly gifts and gift baskets.
COMMENT: Site suggests accompaniments, and will include a personalized gift card.